Ahwahnee Hotel
Opened in 1927 and designated a National Historic Landmark, The Ahwahnee is a true treasure in Yosemite. While most everything else in the valley is quite informal at The Ahwahnee you almost feel the need for a coat and tie (almost
- some time before 2006 they relaxed the supper requirement for a coat and tie to what is now flexibly called "resort informal").
From Glacier Point (and with a good zoom lens) you can get an overview of the layout of the entire hotel...
Note that when the original plans were made the hotel's entrance was supposed to be on the side you see here but when it was discovered how that would affect the surrounding portion of the park the entrance was changed to be on what would be the back side of the hotel in this picture.
Ahwahnee, as a point of interest, is the original Indian name for the Yosemite Valley and means "Place of the Gaping Mouth."
You enter the hotel on the red carpet...
But, before you enter, take a look around. In front of the hotel entrance is a pool and the hotel backs up to a sheer rock cliff (the Royal Arches). Both are of interest by themselves.
Once inside the hotel look around. If you come during meal time consider eating in the main dining room. Its large windows look out over the grounds. While it's not inexpensive, the food (at least the food I ate) is excellent. A 180-degree pan of the entire dining room is shown here...
While digesting your meal, stroll around the rest of the hotel. There is a large sitting area and through that an atrium that opens out onto the hotel grounds. This area is nice for informal meetings and just watching the grounds for animals. A fountain highlights the area under the stairs. The room is shown here...
And, two floors above this one (scroll up and look at the overall picture of the hotel; note the semicircular area in front) is one of the four parlor rooms in the hotel. I managed to get a look inside this one...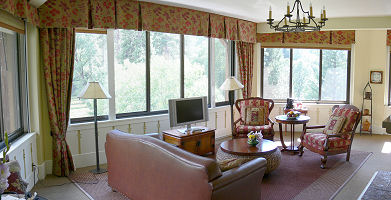 The view straight out the window looks directly at Glacier Point and the view out the right window shows upper Yosemite Falls. Of course, this stupendous view comes at a large price.
That's it for the National Park itself. Now, let's look at a few of the things just outside the park.
---
Comments? Please use the contact page form.
Copyright © 2002-2006 Tom Simondi, All Rights Reserved